How to Unlock a Locked HP Laptop without Password
Q: "My grandfather has forgotten the password of his old HP laptop because he hasn't used it for a long time. How can we access an old HP laptop without the user password? "
Laptops play a vital role in our lives and sometimes we need to change computers to stay productive. Regardless of the brand of the device, if you forget the password of your laptop, then it will be locked. Fortunately, there are still some ways to unlock the locked laptop without a password and this article will explain them.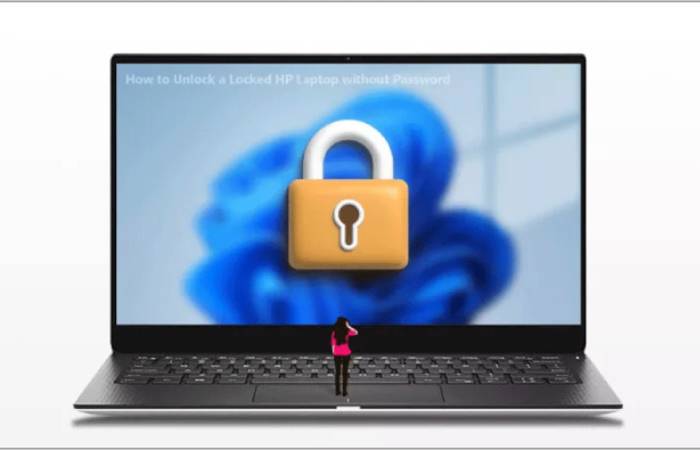 Way 1: How to Unlock Locked HP Laptop via Password Reset Disk
If you forget the password of your laptop, you can unlock it with a password reset disk, which is a very convenient and secure method. A password reset disk allows you to set a new password without deleting any data. You just need to insert the disk into the computer and follow the instructions.
Option 1: If you have created a password reset disk before forgetting the password of your HP laptop, then you can use it to unlock the laptop without software.
Step 1: Connect the password reset disk to the HP laptop.
Step 2: After entering the wrong password several times on the login screen, the "Reset Password" option will appear, click on it.
Step 3: Enter and confirm the new password on the password reset page and click on "Finish". Now you can use the new password to unlock your HP laptop.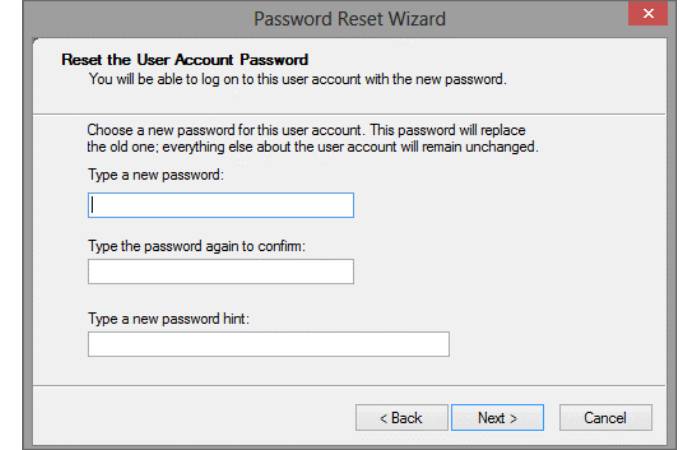 Option 2: If you don't have a pre-created password disk, then you can create a password reset disk for the locked computer with the help of a professional tool to unlock it.
Go to download and install iSunshare Windows Password Genius, which is a multifunctional Windows password unlocking tool that you can remove, reset, and bypass almost all Windows user passwords, including the administrator account.
It is worth emphasizing that this powerful tool will not delete any content from your computer, and these files are 100% safe throughout the entire process of unlocking your HP laptop. Follow these steps to unlock your HP laptop without a password in a few minutes.
Step 1: Connect a blank USB drive or DVD/CD to your computer, run the software, and click the "Start Burning" button to create a password reset disk.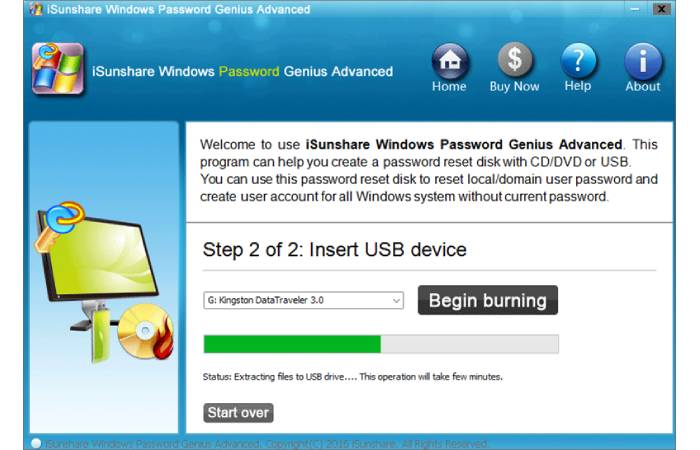 Step 2: After successful burning, connect the password reset disk to the locked HP laptop, then go to Boot Menu and set the device to boot from the USB drive.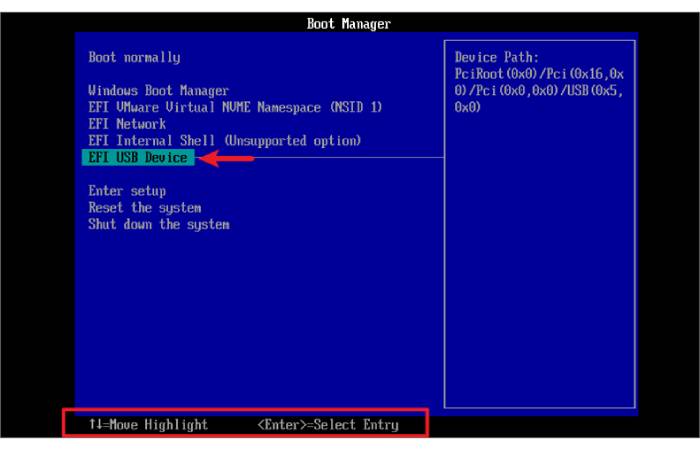 Step 3: The main interface of iSunshare Windows Password Genius will be displayed on the Windows system screen.
Select a Windows OS and a user account with a lost password, then click the "Reset Password" button, soon its account password will be removed.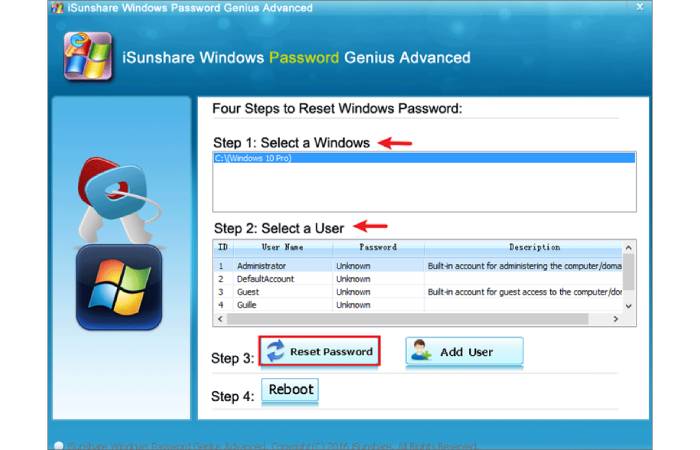 Step 4: Click the "Reboot" button, then click "Yes" to confirm restart the computer, now you can unlock this locked HP laptop without password.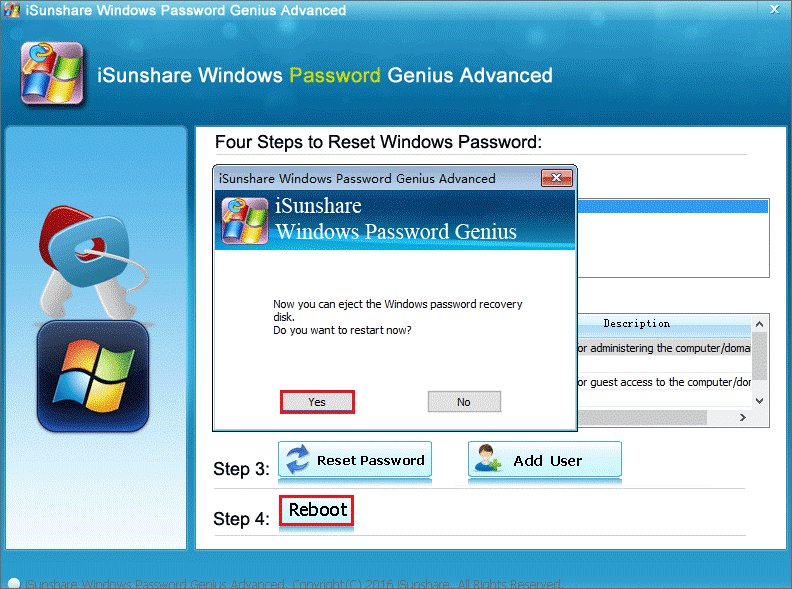 Way 2: How to Unlock HP Laptop by Other Admin Account
How to unlock HP laptop without password or software? Windows allows users to create different accounts, and if all you have forgotten is the password for one of the accounts on your PC, then you can switch to the administrator account to unlock your locked laptop and then reset the password for the locked account. This option is available provided there is another administrator account on the computer.
Step 1: Switch to the administrator account on the login page to access the Windows system.
Step 2: Open Control Panel and go to "User Accounts" > "Manage another user account".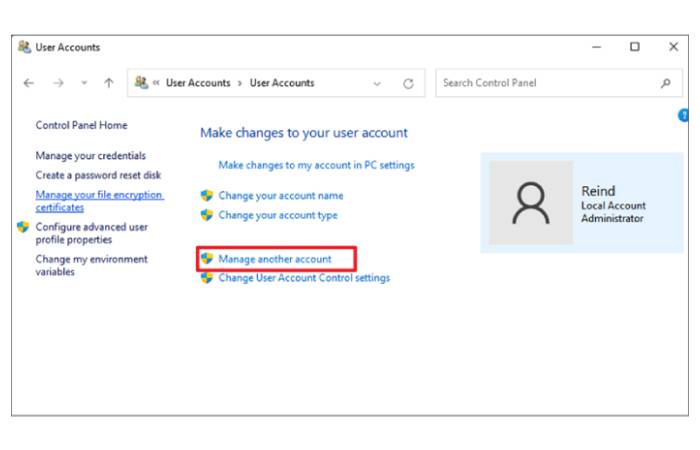 Step 3: Select the locked user account and reset the password for it. After that, restart your computer, and you can use the new password to log in to the locked user account.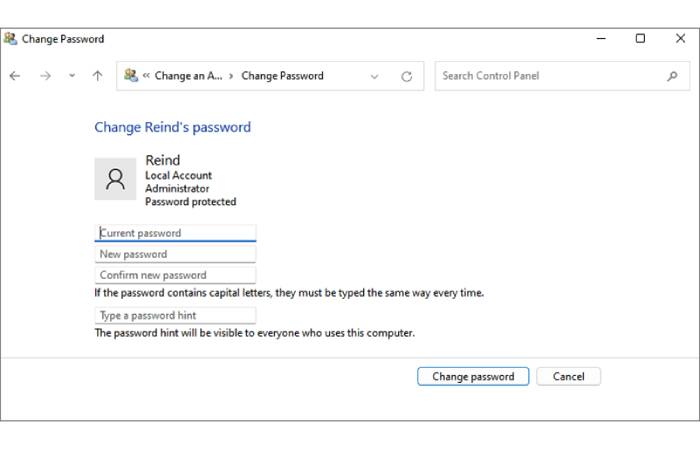 Way 3: How to Unlock a Locked HP Laptop in HP Recovery Manager
HP Recovery Manager has the ability to backup, restore and recover your computer system, you can use this feature to factory reset your HP laptop and remove forgotten passwords. At the same time, it means that all data on the HP laptop system drive will be deleted. Therefore, if possible, you can backup all your personal files first.
Note: This feature is only available for some models.
Step 1: When your computer starts up, press and hold the F11 key until the "Please select a keyboard layout" screen appears, then select your keyboard layout.
Step 2: Next, you will be presented with the Select Options screen, from which select "Troubleshooting" and then "Recovery Manager".
Click on the "System Recovery" option and you will be asked if you want to reboot your system and enter the recovery environment. Click  "Yes" to continue.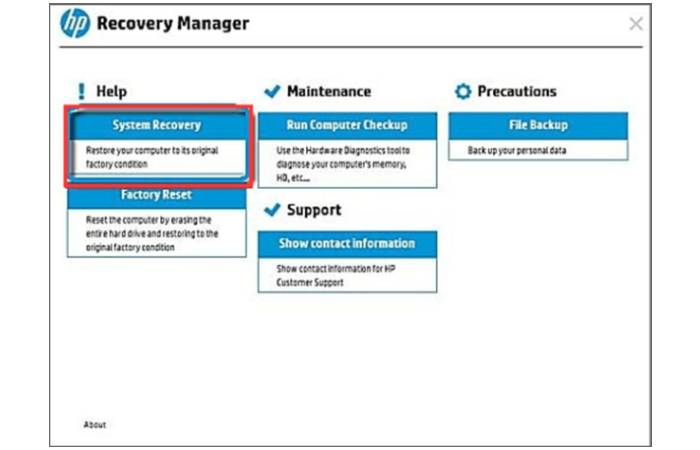 Step 3: Select "Backup your files first (recommended)" or "Recover without backing up your files" and then follow the on-screen instructions to complete all the operations to restore your HP laptop to its original factory condition.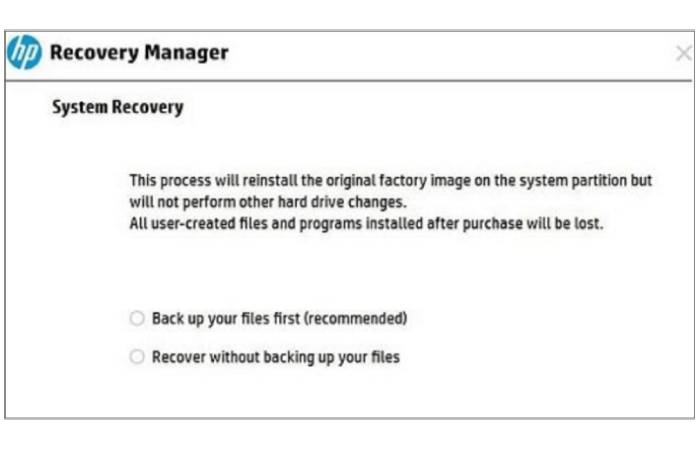 Way 4: Reinstall Windows OS to Unlock HP Laptop without Password
If you don't mind losing files on your computer, then reinstalling the Windows operating system is another way to unlock laptop without a password. However, reinstalling the Windows operating system is a tedious process, after which you will also need to reinstall Windows programs that you use on a daily basis, such as Excel, Google Chome, Skype, and so on.
Step 1: Create a system installation disk. Visit Microsoft.com to download the installation tool on a pre-prepared USB driver.
Step 2: Insert the system installation disk into your HP laptop and go to the BIOS menu to change the boot settings.
Step 3: Go to the Windows installation screen and follow the instructions to install the system files on your computer.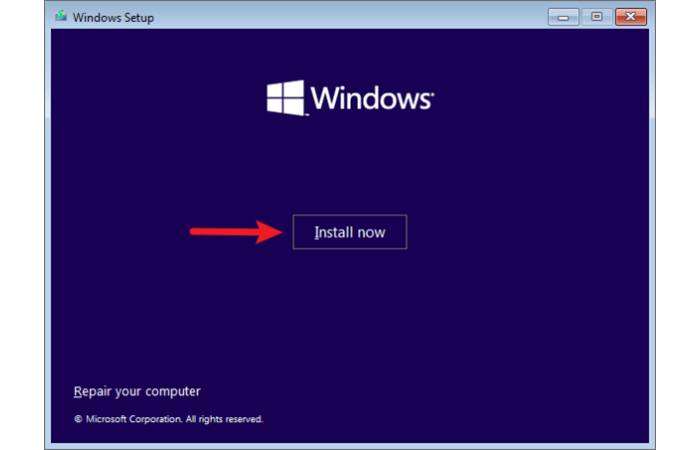 Step 4: Reconfigure the Windows system settings and then log in to the default administrator account for Windows, which should be a passwordless account. Finally, you can recreate a new user account for the HP laptop.
Conclusion
You may think that forgetting your laptop password is far away, but now your HP computer is really locked. Before you decide to go to the computer repair shop, you can refer to some of the methods shared in this guide, which are all effective. I hope these methods can help you successfully unlock your computer.
Related posts
The Great Spreadsheet Showdown: Google Sheets vs. Excel
In the vast realm of digital productivity, spreadsheets reign supreme as the unsung heroes of data manipulation, analysis, and visualization….
Gameplay Innovations: 8 Rummy Apps Pushing The Boundaries
Gameplay Innovations: 8 Rummy Apps Pushing The Boundaries Rummy apps have emerged as pioneers in pushing the boundaries of gameplay…